Windows 10 default username and password are: username: 2019, password: 999999999

Windows Server 2012 install is very easy. If you just ordered the VPS and selected the appropriate Windows template, you have to set Windows password via Console (5-10 minutes after server deploy) or by using SolusVM Control Panel. Please open a support ticket if you want us to complete the install.
Client area console access

Console window

You can refresh the console window using F5 key.

Step by step instructions using SolusVM panel:
1. Go to 'Access Control Panel' option on your VPS.
2. Click on your virtual server and select VNC. VNC credentials will be shown. Click on 'HTML5 VNC Client SSL', a new window will pop-up and you can set the desired Windows password.
Now you're all set, simply open Remote Desktop on your Windows PC and use the VPS IP, user: Administrator and the password you just set !
If it fails on step 2 move on to step 3.
3. Download and install TightVNC

3. Open TightVNC Viewer program and fill the remote host field with proper credentials from step 2 as follow: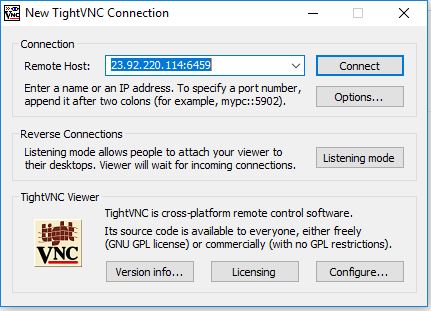 4. Push CONNECT, you will be asked for the password from step 3. Now you're logged in.
5. Set Windows password.